Great Western Highway Service Locating
Location: Great Western Highway – Katoomba, NSW
Project Roles: Service location, non destructive digging, drill mud disposal, access track creation, environmental test pits, tree lopping, pavement coring/investigation, permit creation.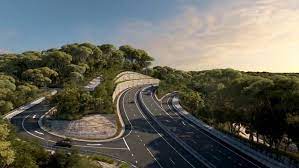 Work Carried Out at the Great Western Highway
Smartscan are currently undertaking works on the Great Western Highway upgrade. Our primary project roles were service locating and none destructive digging however this expanded into approximately 1km of access track creation on a challenging hill grade with a high density of vegetation.
Smartscan worked side by side with an ecologist to create these tracks with a limited footprint on the environment. Smartscan are also conducting environmental test pits to 5m+ to access areas impossible for a drill rig.
How Service Locating Improved The Great Western Highway
The Great Western Highway upgrade in New South Wales is a monumental infrastructure project aimed at enhancing road safety, reducing travel times, and stimulating economic growth. The upgrade includes broadening and realigning sections of the highway, creating new lanes, and improving intersections to facilitate better traffic flow. The project, extending from Katoomba to Lithgow, is anticipated to be completed in stages over several years.
Service locating plays a crucial role in this process. Before any excavation or construction work begins, it's essential to know the exact location of underground utilities such as water, gas, and electrical lines. This helps prevent accidental damage to these utilities, which can lead to costly repairs and potential safety hazards. Service locating ensures that the construction process is carried out safely and efficiently, avoiding unnecessary disruptions and delays.
Underground Service Locating is an essential process in the construction and infrastructure industry. This process involves identifying and mapping the location of utilities buried underground, such as water, gas, and electrical lines. Effective service locating is crucial to avoid damaging these utilities during excavation or drilling, which can lead to costly repairs and potential safety hazards. With the use of advanced technologies like ground penetrating radar and electromagnetic equipment, service locating has become more accurate and efficient. Whether you're planning a construction project or installing new utilities, remember that service locating is a critical first step to ensure the safety and success of your project.