Smartscan Locators' Industry-Leading Non-Destructive Digging (NDD) Capability For Utility Investigation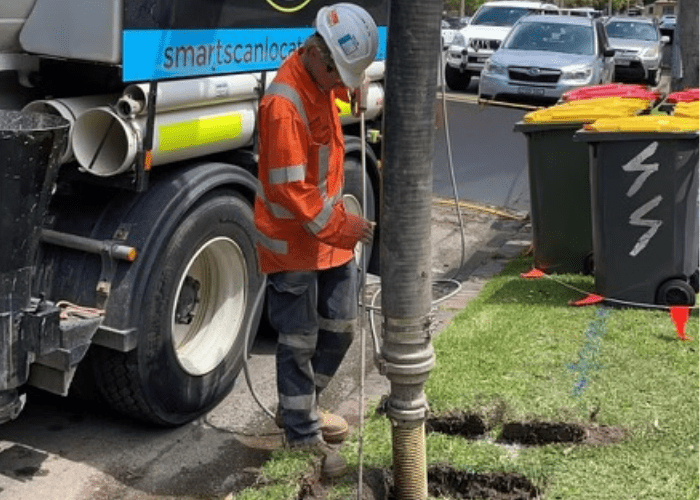 Smartscan Locators' Industry-Leading Non-Destructive Digging (NDD) Capability For Utility Investigation
In the world of construction, safety and efficiency are paramount. And when it comes to excavation, Smartscan Locators has revolutionized the game with our industry-leading Non-Destructive Digging (NDD) capability.
So, what exactly is NDD (Non Destructive Digging), and how does it work?
Also known as Hydro Vacuum Excavation, NDD relies on highly pressurized water and air to gently penetrate soil, dirt, or sand. This loosens the soil, which is then carefully vacuumed up, along with other debris, using a high-powered suction hose into the hydro vac storage tank for safe disposal at a registered and trusted facility.
NDD is the go-to technique when it comes to checking for underground utilities before embarking on commercial or residential projects. This cutting-edge method ensures minimal risk to fragile utility services, including power and gas lines, telecommunication and internet cables, and sewerage pipes. The days of conventional mechanical drilling and the high costs associated with damaging utilities and causing project delays are now a thing of the past, thanks to Non-Destructive Digging.
Let's dive into the benefits of Non-Destructive Digging, and oh boy, there are plenty! First and foremost, precision and accuracy take center stage. The handheld pressurized stick makes it a breeze for workers to direct the stream of water with utmost precision, effortlessly cutting through and softening the soil. Even in confined spaces and around obstacles like power poles and street signs, the small and flexible hoses allow operators to navigate difficult areas beneath the surface with ease.
But that's not all – Non-Destructive Digging is also the quiet champion of excavation. Unlike its loud mechanical counterparts, NDD operates at a hushed volume, making it perfect for suburban neighborhoods and bustling cities where peace and quiet are cherished commodities.
Smartscan Locators' Innovations in Non-Destructive Digging (NDD): A Whisper-Quiet Solution for Residential Nightshifts
When it comes to Non-Destructive Digging (NDD), Smartscan Locators has set the bar high with our commitment to innovation and customer satisfaction. Our latest NDD unit boasts significant engineering advancements, particularly focused on minimizing noise output. With a double-insulated mechanical bay, you can bid farewell to any worries about noise complaints, making it an invaluable asset for nightshift operations in residential areas.
We understand the importance of maintaining a harmonious relationship with the communities where we work. That's why we have gone the extra mile to ensure our NDD unit operates with utmost discretion, preserving the tranquility of residential neighborhoods even during nighttime projects.
By doubling down on insulation in the mechanical bay, we have effectively silenced the noisy equipment that's commonly associated with traditional excavation methods. The result is a whisper-quiet NDD solution that won't disturb residents as we diligently work to uncover the hidden utilities outside their homes.
Smartscan Locators takes great pride in being an industry leader not only in cutting-edge technology but also in fostering a considerate and respectful approach to our projects. With our noise-conscious NDD unit, we guarantee that your night shift/community sensitive operations will be seamlessly executed without causing any disruptions or inconvenience to the community.
With Smartscan Locators at the forefront of NDD operations, we're proud to lead the charge in making excavation safer, more efficient, and environmentally responsible. When you partner with us, you're choosing cutting-edge technology, precision, and a commitment to delivering projects on time, every time. Embrace the future of excavation – with Smartscan Locators as your trusted NDD powerhouse, the possibilities are limitless.